(photo credit: aftertheglassslipper.com)
Ever forgotten an anniversary or an important date and thus needing an emergency dinner plan? In need of ideas where to bring your sweetheart next? Or looking for a fresh new dining experience to break out of that hectic weekday routine? You got it. LoveByte is here to help!
The following are 8 different, to di(n)e for, dining experience we have to offer!
Pizza joint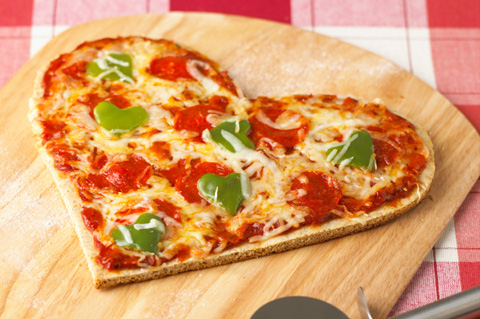 (photo credit: cdn.sheknows.com)
This is exceptionally lovely for high school sweet hearts, and had been together since forever. Why not relive the sweet, young and innocent moments at the pizza joint that you used to go for dates? Sharing a pizza with your favorite toppings and sipping cola while exchanging fond memories of those carefree and guileless days. Blessed are those who found love so early in their life.
Restaurant with a view
(photo credit: farm8.staticflickr.com)
Just imagine sipping a sweet cocktail while overlooking the city lights and the bustling of urban vibrancy. What's the best part? The love of your life standing right beside you, absorbing the same scenery and reminiscing about the same things that are going through your mind. In times like this, words are unnecessary; the right company makes everything feel right.
Seafood grill by the beach
(photo credit: http://d3rmmzlisdjvlb.cloudfront.net)
If the above picture doesn't convince you to dine by the beach, we don't know what will. A picture perfect view of you and partner enjoying fresh lobster salad, grilled succulent jumbo prawns, butter sauce halibut and pan seared scallops with sips of Sauvignon Blanc. All these while staring deep into your lover's eyes and having gentle waves and sand tickling your toes, it's a whole new world we heard.
Romantic Italian
(photo credit: media.au.timeout.com)
Calling for all food lovers (pun intended) out there, Italian night out is a must! When it comes to romance, lusty Italian food is an aphrodisiac. Be it home made meat balls, or any tomato based pasta that an Italian restaurant serves you, they make couples want to clasp hands across the table. Try it and you'll know it.
Cosy BBQ in the back yard
(photo credit: blu.stb.s-msn.com)
What's a better idea than a private party for 2? From picking out your favourite BBQ ingredients at the grocery store to preparing them and partaking in the actual grill, it is an experience all couples should go through. It's time to clad ourselves in those hot shorts, roll back the sleeves on those tone arms and turn up the heat!
Themed cafés
(photo credit: styletails.com)
For the cute couples who are constantly on the lookout for new and interesting dining experience, you guys may want to check out quaint little themed cafés that every city has. We assure that you will have a rolling good time with your partner checking out collected items (may be shoes, cats stuff, cute figurines, comic books etc) and maybe buying some back as furniture or decorative for future homes!
Back to the 70s and 80s, retro café and bars
(photo credit: data.whicdn.com)
Relive your parents' time, fall in love again with your partner at the spot that your parents did, and just sit back and soak up the retro spirit that never really died. In this case, you're probably paying more for the ambiance and experience and not really food. There's a reason why your folks fell in love and you'll know it too once you've tried it.
Killer Ferris wheel dining experience
(photo credit: singaporetravelholic.com)
"Killer" is the word that describes this ultimate dining experience. This is the unbeatable combo of fine dining while enjoying the night (or day if you prefer) view in full 360 degrees, yes you have heard that right, dining in the Ferris wheel cabin/capsule. Nothing compares to this particular experience, as it is a bunch of experience (food, view, heights, love) experienced in one! Mind blown.
We hope this post will help you plan something nice for your sweetheart the next time there is a reason to celebrate. Remember, every date should be like the magical 3rd date. So no matter where you go, have fun and stay loving!
Love,
LoveByte Cupid