You may think, I have WhatsApp, and Facebook, why do I need another app?
But here's what we think – your partner deserves your attention.
Save your friends from the mushy postings
If you do postings like the one below, your friends would probably feel sick behind the screen though they do not tell you. Yes, you might want the world to know how happy or how you are the luckiest man in the world, but do spare a thought for the single or broken-hearted friends too. Not all of us have found The One. :/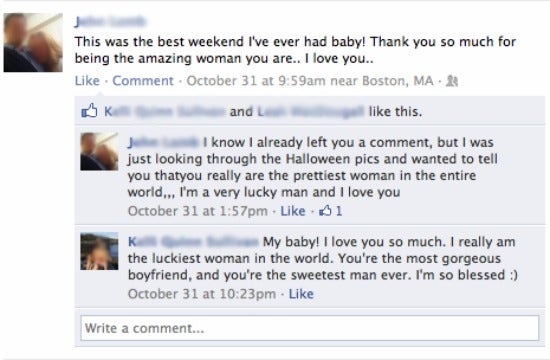 Avoid sending wrong messages
Well, you know the kind of messages couples may send to each other occassionally. Using lovey dovey nicknames for each other is one, but sending it wrongly to an unintended receipient is another thing. Not that funny, especially if it's a co-worker, your boss or your mom.
Especially if you both send intimate photos and sweet nothings, you gotta be doubly sure to check who the receiver is before you hit send. That is why if you are using LoveByte with your partner only, you would never have to worry about the message landing in the wrong hands. Ps.. We don't really want to know what you have planned for your darling this evening. :)
Improved Communication
Post sweet notes to note down things you are too embarrassed to tell your partner. Or type them down in the middle of the night to let them know what is keeping you up… It's important to let them know and speak out your thoughts, because none of us are mind readers.
Remember and cherish happy moments
It is important to us that we remember all the happy moments. It's great to have many happy moments that make us smile, but it would such a pity if we don't remember them at all. Have you recalled stumbling upon an old picture and feel like, "I almost forgot that it happened!" I know I sure have!
What's a better way to collect these precious memories than to post them on LoveByte's timeline and arrange them into individual photo albums? When you browse through your timeline, surely there's a warm, fuzzy feeling as you smile to yourself and reminisce the good times.
Stay loving
LoveByte counts the number of days a couple has been together. Everyday is a step closer together!
Live. Laugh. Love.
Love,
Lovebyte Cupid <3
We at LoveByte believe we can build better relationships in the world. Give it a go and let us know!
Get the LoveByte app or visit LoveByte.us for more details.